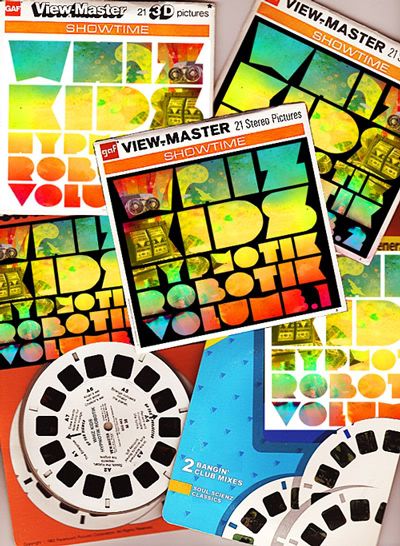 Two of San Francisco's finest,
Bling Crosby
&
24k
have officially teamed up to form the highly anticipated DJ tag-team/2×4 crew,
The Whiz Kids
. We are honored to bring you The Whiz Kids impressive first release:
Hypnotik Robotik
, a 2-volume mix series featuring over 30 bangin' club burners from the likes of
Boy 8-Bit
,
Kill The Noise
,
MSTRKRFT
,
Jesse Rose
,
N.A.S.A
,
Fake Blood
,
Feist
,
M.I.A.
and many more. This is two solid hours of unadulterated aural sex, injected with exclusive Whiz Kids edits, impeccable programming and some of the hardest hitting club music on the market.
If you're ever in San Francisco, you can catch Bling Crosby & 24k in the rotation at
103 Harriet
,
Vessel
,
Temple Nightclub
and many other city hot spots. The Whiz Kids are also currently planning their 2009 US/UK Club Tour set to launch this May.
What else can be said about these prodigies-of-the-party?
• Bling Crosby's - "Triplettes of Belleville/Mr. Sandman Edit" was recently featured on Buffetlibre's Rewind 2.0 (free download)
• Both DJs are members of Soul.Scienz, the creators of LA's highly respected monthly BOOMBOX event
• Bling Crosby aka DJ Destro is the Founder of Soul.Scienz, originally from Denver, CO, with 4 years in LA before moving to SF
• 24k is also known as DJ Tone, originally from Seattle, WA
To all the guys checking out the girls standing in line for the bathroom, I urge you to go home and start studying now, lads; with a music selection and artwork as fine as this, these kids are poised to make the honor roll AND put you in detention!
DOWNLOAD MIXES, COVER ART & TRACK LISTS BELOW:
DOWNLOAD HYPNOTIK ROBOTIK VOL. 1
DOWNLOAD HYPNOTIK ROBOTIK VOL. 2